Xentric Groupware


Applications:

Intranet Portal
Office WorkSuite
Internet Business Portal
ISP Value-added Service

Target Customers:

Small, Medium and Large Enterprises
Business Portal Operators
Internet Service Provider
Application service providers


Xentric Groupware Server

Xentric Groupware Server (XGS) is a groupware server that provides email, address book, bulletin board, discussion forum, to-do list, notepad, bookmark, and calendar services. XGS equips enterprises, web hosting companies, ISPs, ASPs, and portal operators with powerful communication and collaboration web-based services for their Internet/Intranet users. Services provided by XGS are accessible from any Web browser or WAP-enabled device such as mobile phone and Personal Digital Assistant (PDA). XGS does not require any additional client software other than your Web/WAP browsers, and therefore allows you to access and share information from anywhere at anytime.

XGS is built upon Intisoft's Xentric XML Server, which features open Internet standards and provides maximum flexibility and extensibility for your forthcoming teamware solutions. Similar to any other Xentric server software, XGS was designed with an emphasis on reliability, performance and scalability. Whether you have a thousand or a million users, XGS serves up to your requirement.



Benefits of Xentric Groupware Server
| | |
| --- | --- |
| Integrated Application and Messaging Services | XGS comes with pre-packaged applications and messaging services to maximize your workgroup productivity. Your in-house IT department can further customize XGS into a vertically oriented applications specifically for your unique requirement using Java, JSP or other web scripting language. |
| Complete Web Integration | XGS provides an easy-to-use and web-based administration interface. System administrator can perform system management operations on selected system components at different access control level. |
| Security and Scalability | XGS implements SSL, a widely adopted Internet security standard, as its primary security measure. In addition, Xentric's state-of-the-art clustering technology provides failover and load-balancing capability. |
| Integration with existing resources | XGS is built on Internet standards such as Java, JSP, LDAP, JDBC, SMTP and IMAP. Relying on these open standards and inheriting the XML nature of the Xentric platform protects your existing IT investments and allows XGS to utilize existing resources such and directory, mail and database servers. Furthermore, you can import existing address book records residing on Outlook, Outlook Express or Netscape Communicator into XGS. The contact management and scheduler features are designed around the open standards vCard and vCalendar, which allows XGS to interchange data with other private or public systems. The upcoming SyncML connector will also provide data synchronization with a variety of handheld devices. |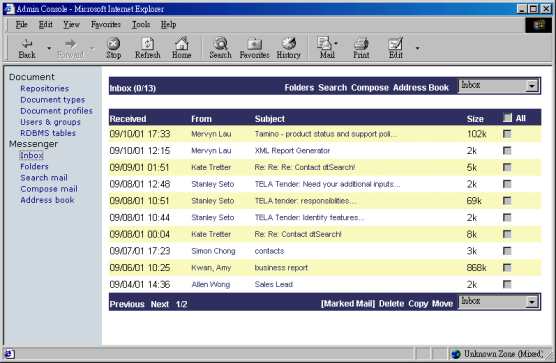 Xentric Groupware Server which includes Messaging, Collaboration, and Content Management Bean features following functions:
Email
Compose, read, forward, reply, print email messages
Download/upload mail multiple attachments
Save work-in-process in draft folder
Spell check feature
Manage incoming and outgoing messages by folders
Contact Management
Manage email and contact addresses in a single database
Share contacts with group members
Import addresses from Outlook 2000, Outlook 98, Outlook Express or Netscape Communicator
Mailing List Management
Mass emailing to all or a particular class of members to inform members about special events, promotions and latest news
Scheduler
Flexible time management tool
Share timetable with group members selectively
Intuitive user interface
Calendar, daily, weekly, monthly, yearly and list view
Discussion Forum
Create forums on-the-fly
Threaded discussion
Access control based on forums
Support message moderation
New post notification Bulletin Board
Publish organization-wide or group-wide announcement
Search or browse previous messages
To-do-list
Reminder work-in-process or outstanding tasks
Display the most urgent items on personalized home page
Notepad
Jot down essential notes and share them with group members at your discretion
Document Library
Virtual filing cabinet provides online document storage
Share document such as product brochures and sales reports with group members
Bookmark
Make notes of important Internet url/addresses
Assign description to each book mark
Upcoming Features
Voting booth
WAP connector
SMS connector
SyncML connector
PalmSync connector
WebDAV connector
Workflow processing
Facilities scheduler
Computer Based Fax Integration
Personalized desktop


Click here for more information about Intisoft's Xentric and services.